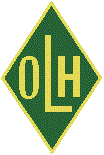 Our Lady of Hope
Turns 50!
Revised 9/5/04
OLH/St Luke 50th/15th Celebration Started with
the all class reunion on Sept 4
Our 50th anniversary started with a bang On Saturday evening, September 4, 2004. Nearly 300 alumni, faculty, and priests got together to reminisce and renew old friendships.
Use this address to contact Dennis Coyle about this website, or to send reunion pictures for publication on the website. Denny

THE OLH SITE IS UNDER RECONSTRUCTION.
IT WILL BE RUNNING AGAIN SOON
Over the years since I put this site up a few things have changed.
I had to disable the guest book because people were posting links to their porn sites. (not good to have posted on a Catholic school site!) Some links were started as dead ends with the expectation of more to come, but it never came email links were posted and the individuals whose addresses were listed started getting spam.
SO, now is a good time to fix all of that.
---
Page design by
---