Our Lady of Hope
Turns 50!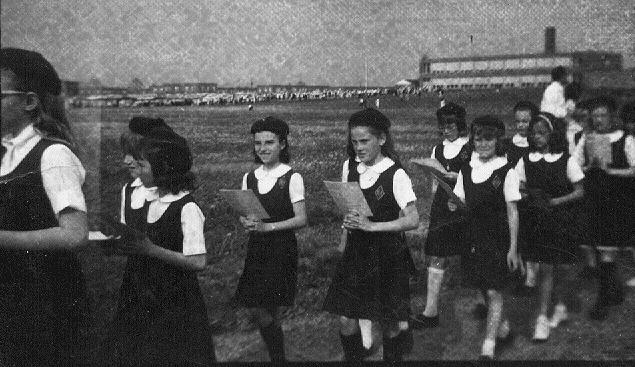 ( and these little girls are now about 45! Oh No! )
Alert! - - Alert! - - Alert!
Our Lady of Hope / St Luke's School will soon be celebrating it's 50th year as a school. We are looking for all students who graduated from OLH and OLH/St Luke's in order to start an alumni association, and to begin to prepare for our big 50th celebration.
We invite you to email or write to Mrs. Bitzel or Denny Coyle ('65) and send us your name, address, email address, phone number, and year of graduation so that we can contact you with further developments. We also would like to ask for your help in locating lost classmates. A lot of us left the parish years ago and have become quite hard to find. Most of the ladies have married and complicated our task of locating them when they took on a new surname. In some cases we will be able to find people through their parents, but often the parents have moved on or have passed on. So, if you know the whereabouts of any OLH alumni, we ask you to do two things; Send us their name, class, and a way to contact them, and ask them to contact us as well. With luck, we will be able to build a good web of contacts so that we don't miss anyone.
Our goals also include starting an Our Lady of Hope / Saint Luke's quarterly newsletter. If you have any information that you would like included in the newsletter, please send that to us as well. Sending the information by email would help us a lot, because it saves a lot of retyping.
You can contact us several ways. The easiest is by email. For a fast reply use this email link:
Gerri Bitzel and Denny Coyle

glbitzel@aol.com Or
The above link goes to both Gerri and Denny. It is set up that way because we would like to get back to you as quickly as possible. At least one of us is sure to check our mail daily. If you would prefer to contact one of us individually, use one of the links below:
Gerri Bitzel

glbitzel@aol.com

OR
Denny Coyle

seamus51@home.com


If you prefer snail mail:


OUR LADY OF HOPE SCHOOL
Anniversary Committee
8003 N. Boundary Road
Baltimore, MD 21222-0349
410-288-2793

We need to make our 50th anniversary a wonderful gala and celebration! With your help, it will happen.
Hoping to hear from you soon! Mrs. Bitzel ( chairperson)
Denny Coyle ( co-chairperson)
---